A diverse group of volunteers were assembled and charged with reviewing our properties and programs with the outcome being a 10-Year Plan.




The recommendation, called Imagine 2024, was voted on and approved at the December 16, 2013 Executive Board Meeting. This was the first phase of our campaign.




The original recommendations led to a conversation with marketing professionals which prompted additional objectives that were approved by the Bay-Lakes Council's Executive Board.




These objectives will be critical to the Bay-Lakes Council as we seek to offer high quality programs and facilities with a business model that is financially sustainable.




?

Beginning in 2017, we have entered into the next phase of master planning for this project and it is called "Growing Future Leaders."
Three Town Hall Meetings were held throughout the Council and hundreds of stakeholders had a chance to see for themselves the vision for the future. The 10–Year Strategic Plan titled "Imagine 2024" was unveiled after nearly 2 years of planning and development. The vision is to look towards 2024 and imagine what the Council could look like in terms of membership, programs, leadership, funding, marketing; as well as our properties.
The plan is designed to be the guide to the ULTIMATE EXPERIENCE in the life of a young person. In today's fast paced and constantly changing society it is critical that we as a Council adapt and change so that we can continue to provide a high quality experience, for our members and remain significant in their life and the lives of their family.
To view the video introduction of the plan, click here.
To view a recorded version of a Town Hall meeting,

click here

.
A copy of the brochure distributed at the Town Hall meetings can be downloaded

here

or you may pick up copies to share from the Center for Scouting.
Please use these with your unit or other groups to help us spread the message.
As the Council begins to implement various efforts and initiatives of the "Imagine 2024" plan, we will post updates related to the progress of the plan, provide answers to commonly asked questions, post pictures and renderings of new and remodeled buildings, provide links to live webcams, and post relevant documents and videos for downloading and viewing all in an effort to allow you to see the vision come to life and help us share that vision with others!

Imagine 2024 Project Update
The mission of the "Imagine 2024" Plan is to enhance Council properties ensuring that they support and compliment a diverse year-round program offering. This plan will focus on: Fiscal responsibility of valuable Council resources; Utilization of the unique natural qualities of each property, as well as surrounding program opportunities to enhance program offerings; Provide continuous improvement to allow for growth and flexibility of the plan as needs change; and Create sustainable camp models that will ensure that the camps not only serve current but also future members. We will continue to communicate progress of the plan and provide transparency to you our stakeholder.
So, allow us to provide you with a brief update.
As was previously announced in our last update, Camp Maywood Wilderness was sold as part of the Imagine 2024 Plan in an effort to appropriately size our assets and ensure a sustainable and exciting future for the Bay-Lakes Council properties and program offerings. The camp and the many dedicated volunteers were honored with a "Farewell to Maywood Wilderness" event in July, providing a chance to share stories and memories and bid a heartfelt goodbye to the camp. Our longtime caretaker Howard Veldman has moved to his new residence and remains busy helping to sort through the remaining assets as we redeploy them to the other camp properties.
Pieces of Maywood Wilderness will "live on" at other locations within the Council:
The Marv Knight Perimeter Trail will be relocated to the new Webelos camp on the Bear Paw property;

The historic Totem Poles are being moved to Gardner Dam to greet campers

The Indian head signs which led campers to the lake at Maywood are being incorporated at Rokilio so they can continue to guide youth.

Campsite signs will be repurposed for our Wood Badge Courses

Many important historical treasurers were added to the Bay-Lakes Council Museum
In our commitment to transparency, we felt it appropriate to share the financial details of this transaction and provide visibility into where this money is being invested. The property had a total appraised value of $740,000. It was divided and sold to two separate buyers for a combined sale price of $889,000. The Executive Board has established a disbursement plan for all property sale proceeds to ensure responsible investment in accordance with the Imagine 2024 Plan: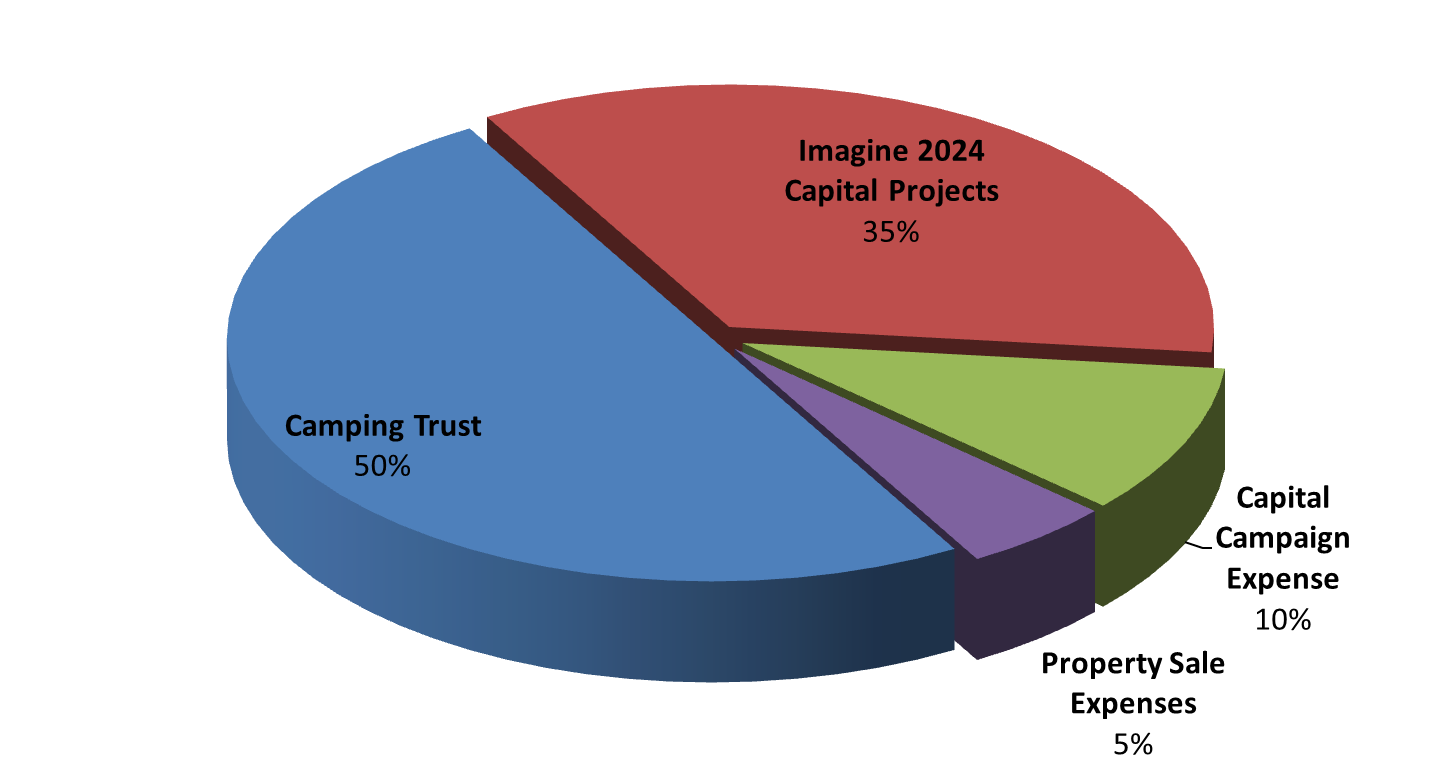 50% of proceeds are invested into the long-term camping trust fund, which is drawn upon annually based on overall

fund performance.

35% of proceeds will be set aside for more immediate capital projects that have been identified in the Imagine 2024 Plan, such as the refurbishment of the Rokilio dining hall.

10% of proceeds will be used to fund BSA National consulting services which will aid in the larger capital campaign effort for additional property improvements.

5% of the proceeds are spent on property sale expenses, such as appraisals, surveys, fees, etc.
Additionally, any future asset investments require a 15% set-aside for long-term maintenance of that asset. So as an example, if we build a shelter for $100,000, an additional $15,000 will be placed in a long-term investment fund in order to fund repairs and larger maintenance items with that structure in the future.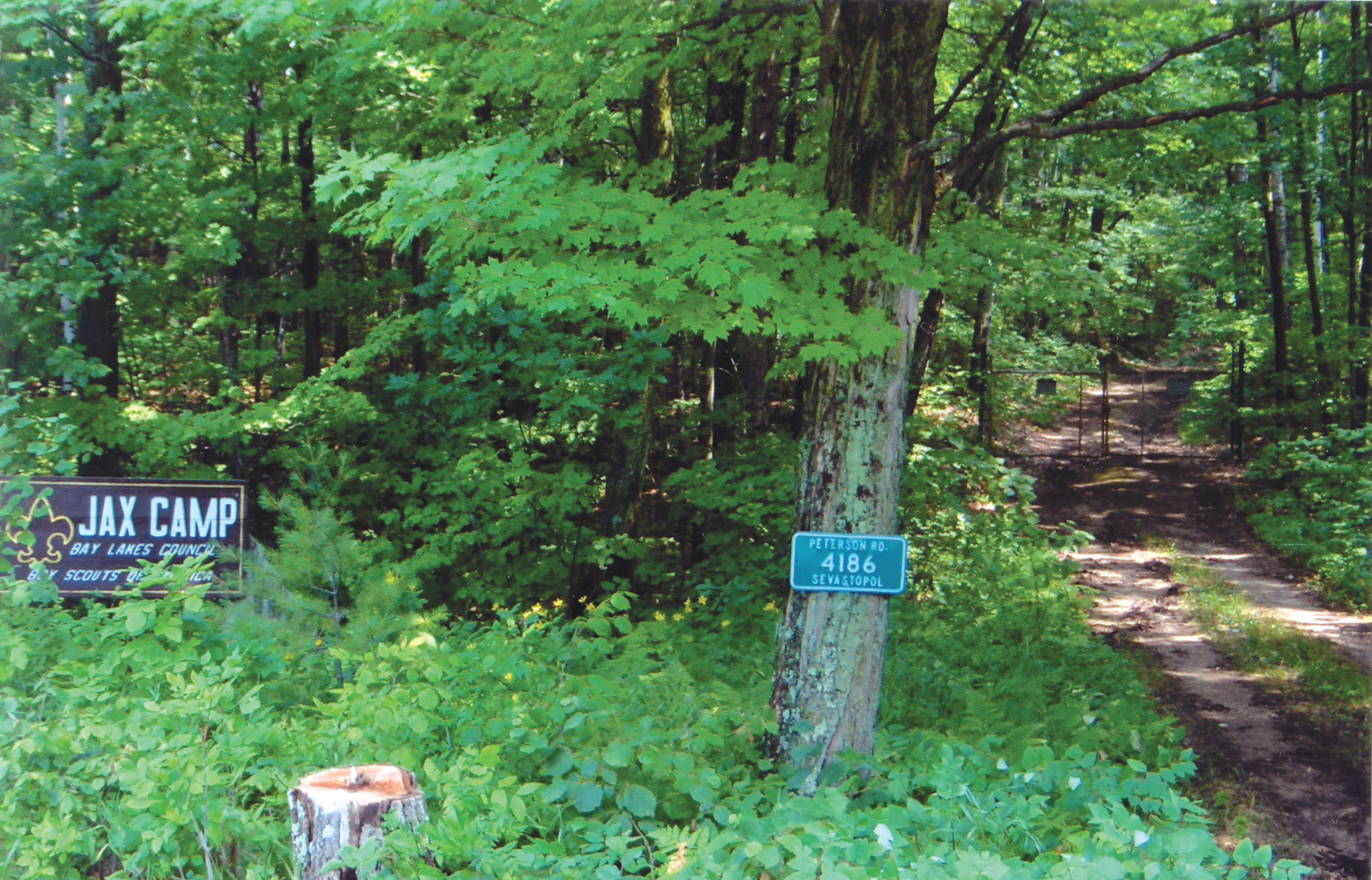 In addition to the Maywood sale, we finalized the sale of the north 20 acres of JAX Camp. The sale of this portion of the property will provide funding for capital improvements to the remaining camp property in accordance with the original gifting agreement. This portion of the property was appraised at $80,000 and sold for $85,000. This will provide for approximately $72,000 in capital improvements on that property (after 15% is invested for future maintenance).
It's important to acknowledge that the divesting of camp property has emotional implications, and is certainly more than just a business transaction. As a Council, we know that these difficult decisions are being made for a stronger tomorrow, with greater financial stability and more robust program offerings. Many thanks to all those volunteers who continue to dedicate their time and knowledge to the Imagine 2024 process!
To comment or ask questions about our vision please contact us at Imagine2024@Scouting.org.
We would like to thank the following companies for their assistance and insight as we prepare to enter a new decade of change in the Bay-Lakes Council:
Boy Scouts of America – Engineering Service