Camp Hiawatha is 800 acres and encircles Bunting Lake, a 60 acre lake in the middle of Hiawathaland National Forest in the heart of the Upper Peninsula of Michigan, between the towns of Munising and Chatham. Close by are many trails and waterways including the Pictured Rocks National Lakeshore, The North Country Trail, Grand Island, and the Autrain River.
Camp Hiawatha provides a 7 day/6 night patrol style camping experience. Amenities include 8 camping sites that can accommodate 40-80 campers depending on the site. Each site has flush toilets, patrol shelters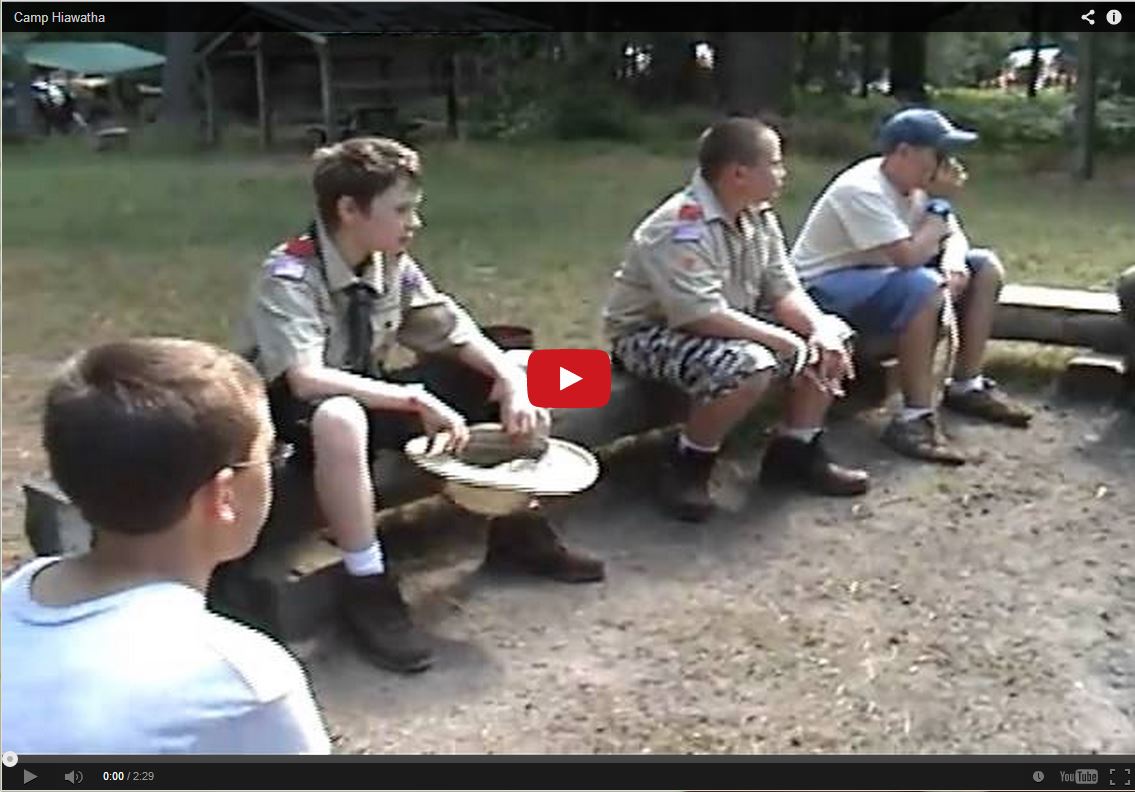 and a central fire ring. A shower house with 10 stalls including handicap accessibility is also available.
Scouts camping at Camp Hiawatha have the opportunity to experience the outdoors and appreciate its bounties by sleeping in tents, cooking and eating meals in the outdoor setting, exploring the many nature trails, watching the loons swim about the lake with their chicks, or watching the grand night skies. The opportunity to learn and apply outdoor skills helps to reinforce the "Outing" of Scouting.
Camp Hiawatha offers a multi-layered program for Scouts of all ages and experience levels. A program designed specifically for first time campers, many merit badge opportunities for Scouts working on their advancement, and a high adventure program for older, more experienced Scouts.
Registration Schedule
Online Registration Information
There can only be ONE person from your Unit who will be able to make the participant roster and merit badge selections. If they do not sign-in, it creates a duplicate reservation and can cause some confusion as any previous registered information will not appear. If the Unit Camp Coordinator person has changed, contact information needs to be updated or additional assistance is needed, please contact Laura at the Center for Scouting at Laura.Daigle@Scouting.org or (920) 734-5705 Ext. 142.
To see what sites are available, click here or contact Laura Daigle for a more up-dated chart.
| | |
| --- | --- |
| Week 1: July 8 - 14 | Week 3: July 22 - 28 |
| Week 2: July 15 - 21 | Week 4: Canceled |
Summer Camp Resources & Forms
All forms with an * in front are required documents needing to be sent to camp 2 weeks prior to attending. The Central Registry Clearance Form, notated with ***, is needed to be completed by ALL adults attending camp overnight. All adults (over 21) leaders, from Michigan, in camp must have on file at the camp office a copy of a State of Michigan Central Registry Clearance, (DHS form # DHS-194). Forms are attached to this guide. Beginning in 2010 these must be on file or you will not be able to stay at camp. If you filed the form in the past you do not need to file it again as they are on file with the camp records.
All adults (over 21) leaders from Wisconsin must go to their county health department and request a document that confirms they are not on any suspected child abuser list. This document would then be sent to the camp.