2017 FALL PRODUCT SALE INFORMATION & RESOURCES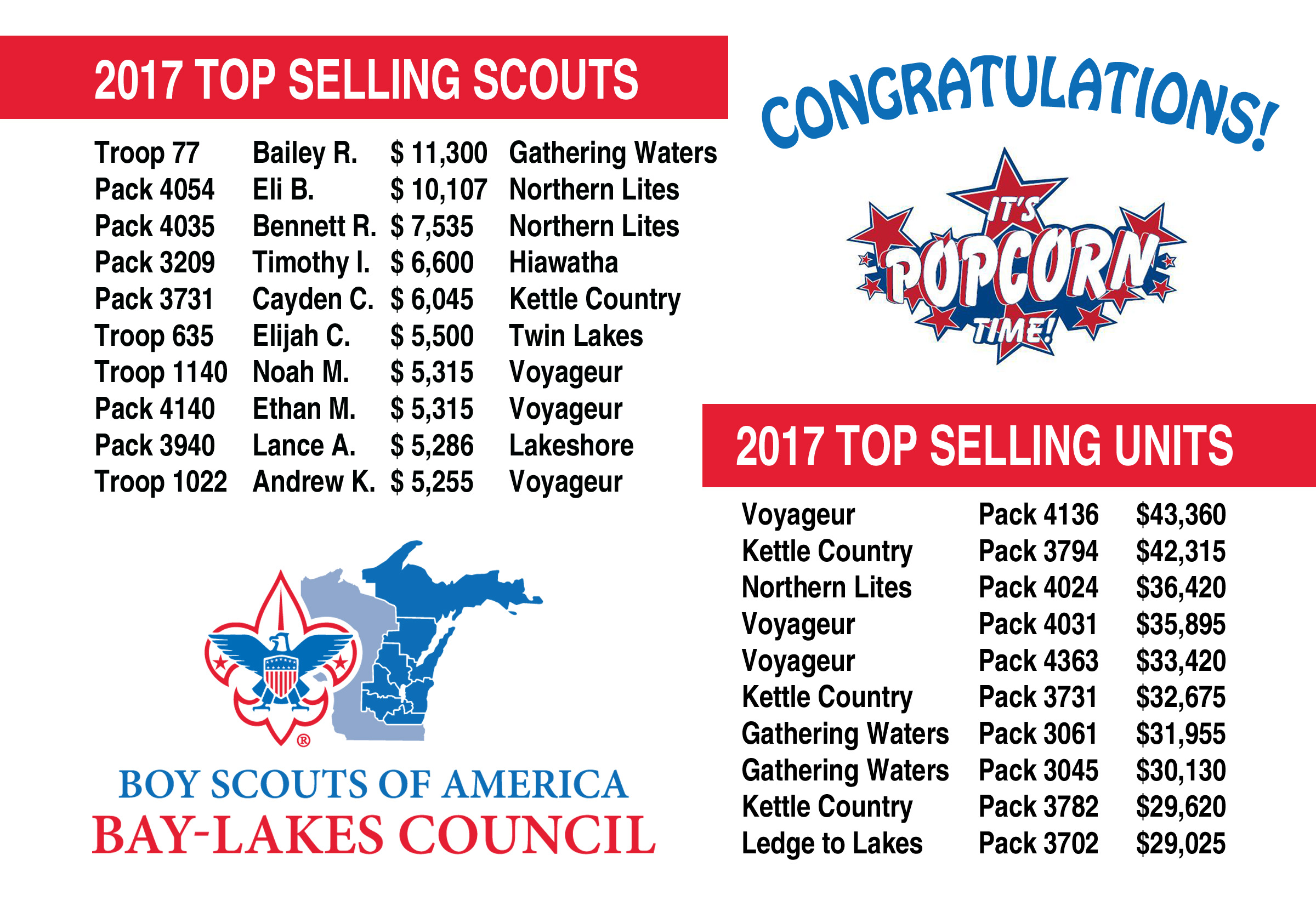 These resources include useful information to aid you and your Unit in having a successful sale this Fall.


As always, we are here to help you with any questions.


CONTACT:

Alex Behrend: Alex.Behrend@scouting.org / (812) 369-5712
Register for the 2017 Popcorn Sale Here
______________________________________________________________________________________________
_________________________________________________________________________________________________
PRE-SALE INFO
(Aug. 13 - Sept. 10)

DURING SALE INFO
(Sept. 10 - Oct. 23)

POST-SALE INFO
(Oct. 23 - Dec. 24)

For Unit Kernels

Unit Kernel Position Description

ACH - Enrollment Form - Only need to complete if
information is different than what was submitted in 2016.

Forms

Keller Prize Program

Keller Prize Order Tally Sheet

Keller Prize Order Entry Link
Keller Key: 635blc

Unit Planning

Suggested Order for Show & Sell

Unit Sale Finance

"Training" Record & June 30th Membership

ALL Scouts Bonus Prizes

How to Enter the Winner Circle Prize

Individual Scout Sales Report Form

STAR WARS Movie Ticket Order (Starts 10/31)

Unit Kickoff Tools

Unit Popcorn Kick-off Video- Benefits of Selling Popcorn

7 - Reasons Boy Scouts Should Sell

Sample Selling Script Handout for Scouts

Online Selling

ALL STAR - $400 Forms

Scout AirVenture (July 23-29, 2018) Ticket

Scouts receive one day admission ticket for themselves to AirVenture 2018. Scouts will need to enter their ticket number and proceed to the next step on the link below. Please see the attached list of Boy Scouts with their ticket numbers. They have until July 1, 2018, to get their ticket for AirVenture 2018.

https://tix.extremetix.com/webtix/2025/event/73720?memberid=

Click the "Promotional Offer Login" button in the top bar of the Extreme Tix screen before they get a place to login the Scouts number. Then if they have multiple scouts they need to log completely out of the Extreme Tix site and close the tab and start again from your link in the email, before the next scouts number will work properly.

Scout Museum Pass

Scouts will be allowed one free admission for themselves into the EAA Museum. When they enter the museum, they should proceed to the gift shop desk. The gift shop has a binder with the names of all qualifying Scouts. The Scout should provide their name to the gift shop employee, who will then check the list and admit the Scout for free. Each Scout has until July 1, 2018, to use this free pass.

Training

Council Kick-off Training Video - Aug 19, 2017
*In case you need a refresher from the training

2017 Popcorn Kick-off Power Point Presentation -
Adapt These Slides for Your Own Unit Kick-off

Answers to Buying Popcorn Ojections

Scholarship Program
(Only for those with previous Scholarships)

Scholarship Online Fillable Form

After completing the Scholarship fillable
form, save as a PDF and email to
Nikki.Woolf@Scouting.org, Submit
button on the form is not working.